Green Tiger Markets PH Electricity Update
First Trade on Green Tiger Markets
It has been an incredibly exciting month for the Green Tiger Markets team. We are thrilled to announce that we have successfully completed our first trade on the GTM Marketplace, matching a Generator and a RES for August through December Luzon Around the Clock (RTC). This achievement represents a significant milestone for the Philippines Electricity Market and we are honored to be the first and only marketplace to arrange a financially settled CFD for Philippines Energy. It has taken a tremendous amount of effort and patience to reach this point, but we are now one step closer to our ultimate goal of making hedging electricity more efficient. The positive sentiment surrounding this transaction in the media has been truly delightful.
We have been inundated by a wave of renewed interest from clients who are eager to register for GTM. As a result, we are diligently processing applications and conducting KYC. We are thrilled to continue expanding our client base across a wide range of products and actively collaborating with several counterparties' due diligence teams. If your firm has not yet engaged with us to join Green Tiger Markets, we encourage you to reach out without hesitation.
Carlos and I will be in Metro Manila this week and next, meeting with clients and hosting a highly anticipated industry drinks event tonight at Tipsy Pig in BGC from 5-7pm. This event has been gaining popularity and presents a wonderful opportunity to forge new connections within the industry and reconnect with old acquaintances. We eagerly look forward to seeing each and every one of you tonight.
Current Orders
Mostly, the market is interested in knowing what we have working at the moment. We continue to see substantial interest in hedging Around the Clock (RTC) power blocks, both new hedges and replacement power blocks. We also have interest in hedging 1-10 years out from both consumers and producers. Key orders that we have been working:
Luzon RTC Balance of the year - Market is 6000@7500
Luzon RTC September - Offered at 6000
Luzon RTC September for 1 Year - Market is 6000@7000
Luzon RTC September Week 1 and Week 2 - Looking for an Offer
Luzon RTC September-October - Looking for a Bid (indicatively 5000 bid)
Luzon RTC November-December - Looking for an Offer (indicatively 7000 offered)
Luzon RTC Cal24 - Looking for a Market (indicatively 6500 offered)
Luzon RTC Cal25-34 - Looking for an Offer (indicatively 6500 offered)
Luzon Solar Cal25-26 - Looking for a Market (indicatively 6500 offered)
Luzon Solar Cal25-Cal34 - Offered at 5000
Final settlements for July are out, and early indications, based on RTD data, show prices trending lower for the beginning of August.
Market Data and Commentary
Luzon Prices for Q3
Power prices, while elevated on a historic basis, have been trending lower and cleared well below Q4 prices. Seasonally, we would expect prices to be softer for the next few months as rainy season kicks in and Hydro becomes a more impactful portion of the stack. Below is a plot of Luzon RTC prices with Green being daily prices, Blue being weekly, and Orange being monthly prices.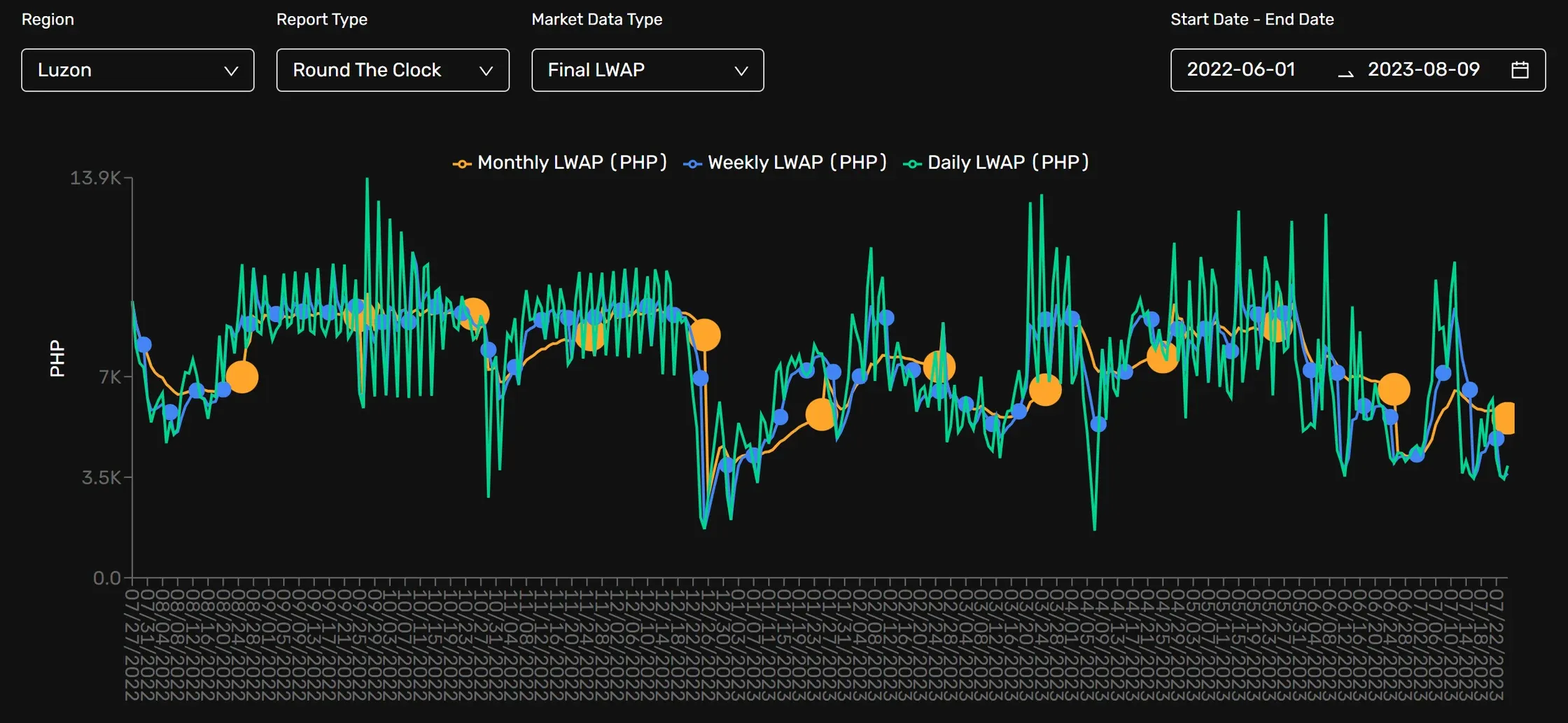 Fuel Prices
Newcastle coal, plotted below, seems to have found some near term support, trading as low as $120, currently trading $142.50/ton. However, it is still roughly double the average price from pre-pandemic levels. Given rising extraction costs, and strong demand in Asia, coal prices should stabilize here for the time being and could end up ticking higher next year. Glencore just posted a fantastic quarter and has a bright future ahead of it.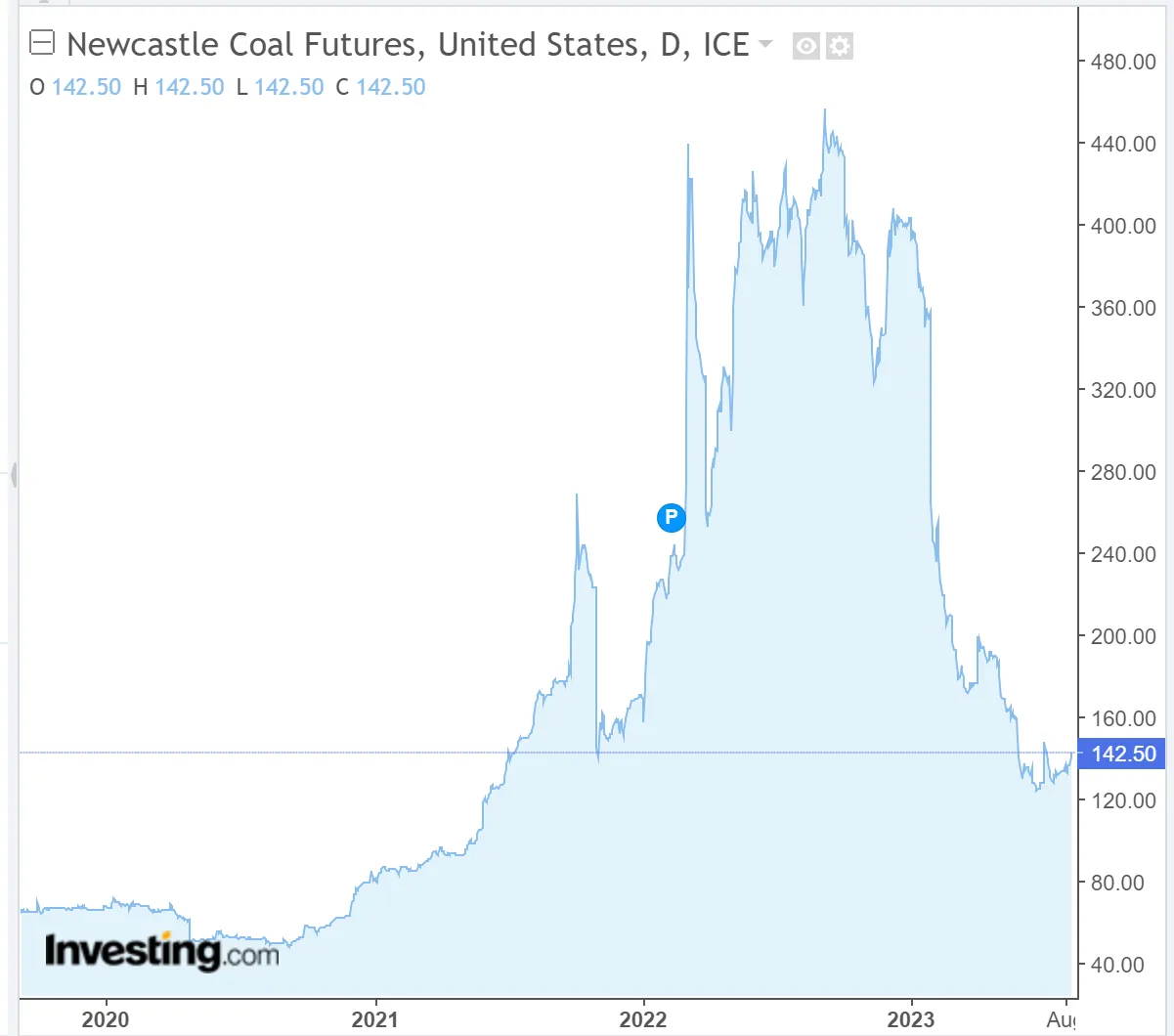 Based on where the forwards are trading for Newcastle coal right now, expect dry season Luzon RTC prices to clear between 6000 and 7500. Below are Newcastle forwards through summer 2025.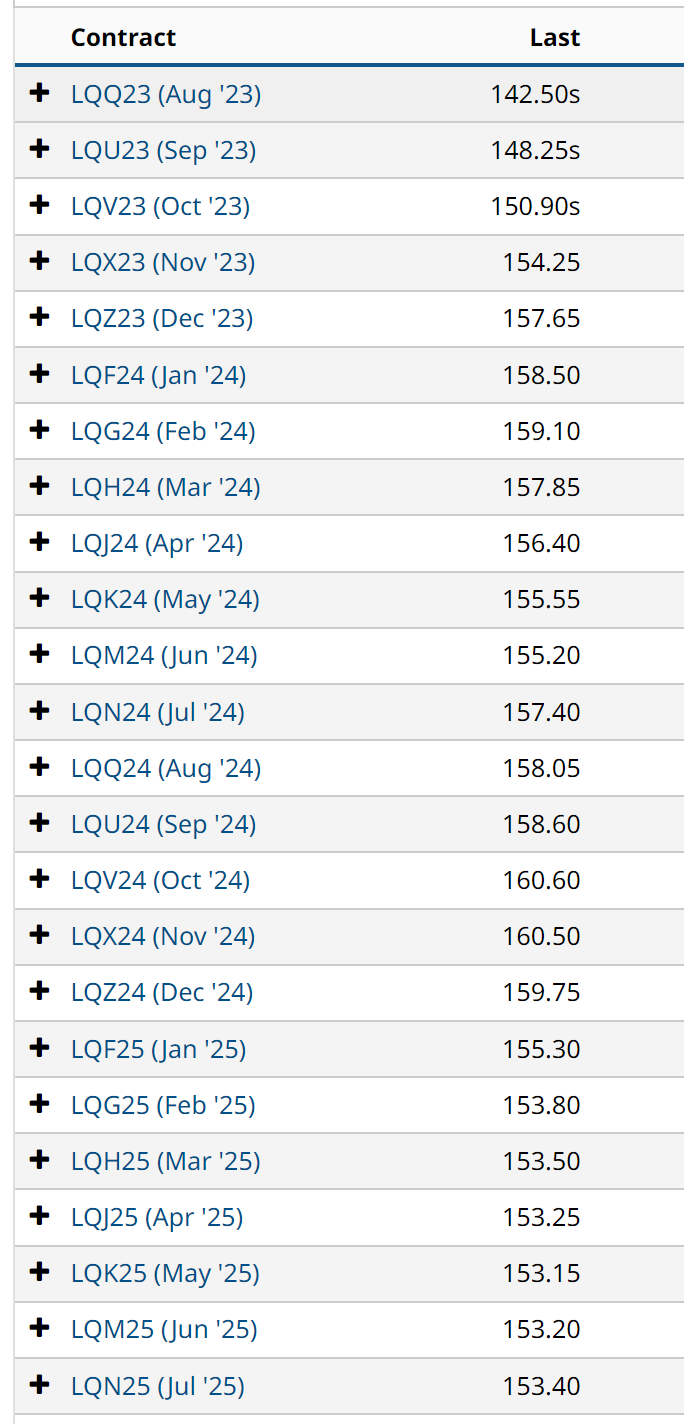 Spot Market Settles
Moving on from coal prices.... Final LWAP settles are out for July. Prices were generally weaker than last month and the evening hours continue to spike relative to the morning hours.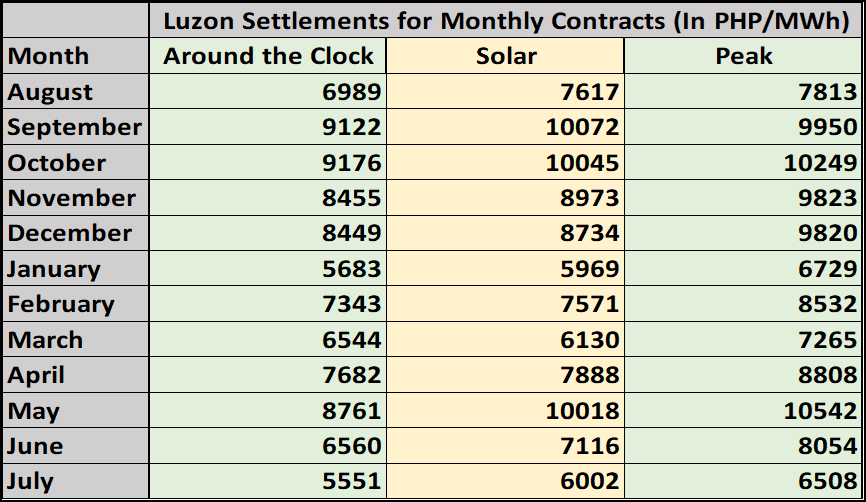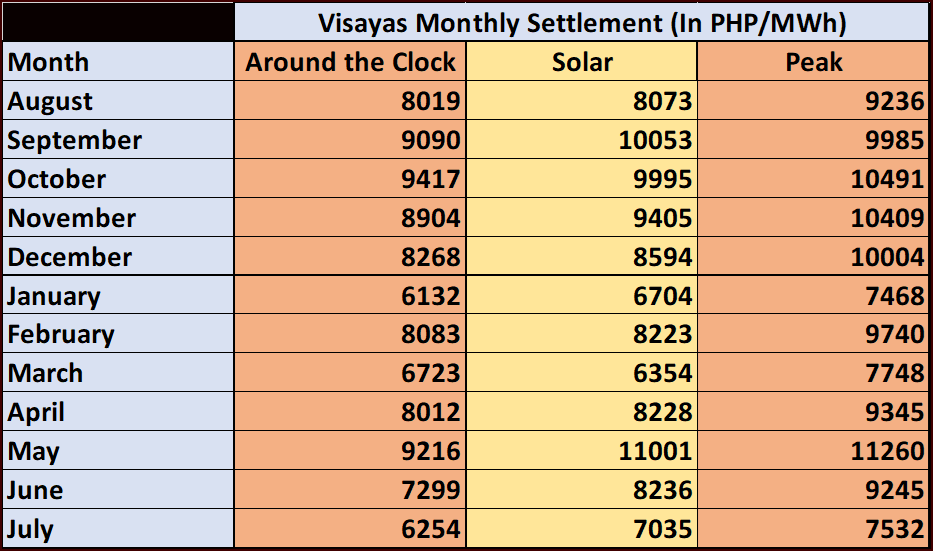 For the month of July, we generally saw Peak trend stronger vs RTC. Solar continued to price at a premium to RTC, but still discount to Peak and evening hours. Note the clear downtrend of Solar vs. Peak over the last year. We expect this to continue as more and more solar gets delivered into the market. There are several projects coming later next year and in 2025.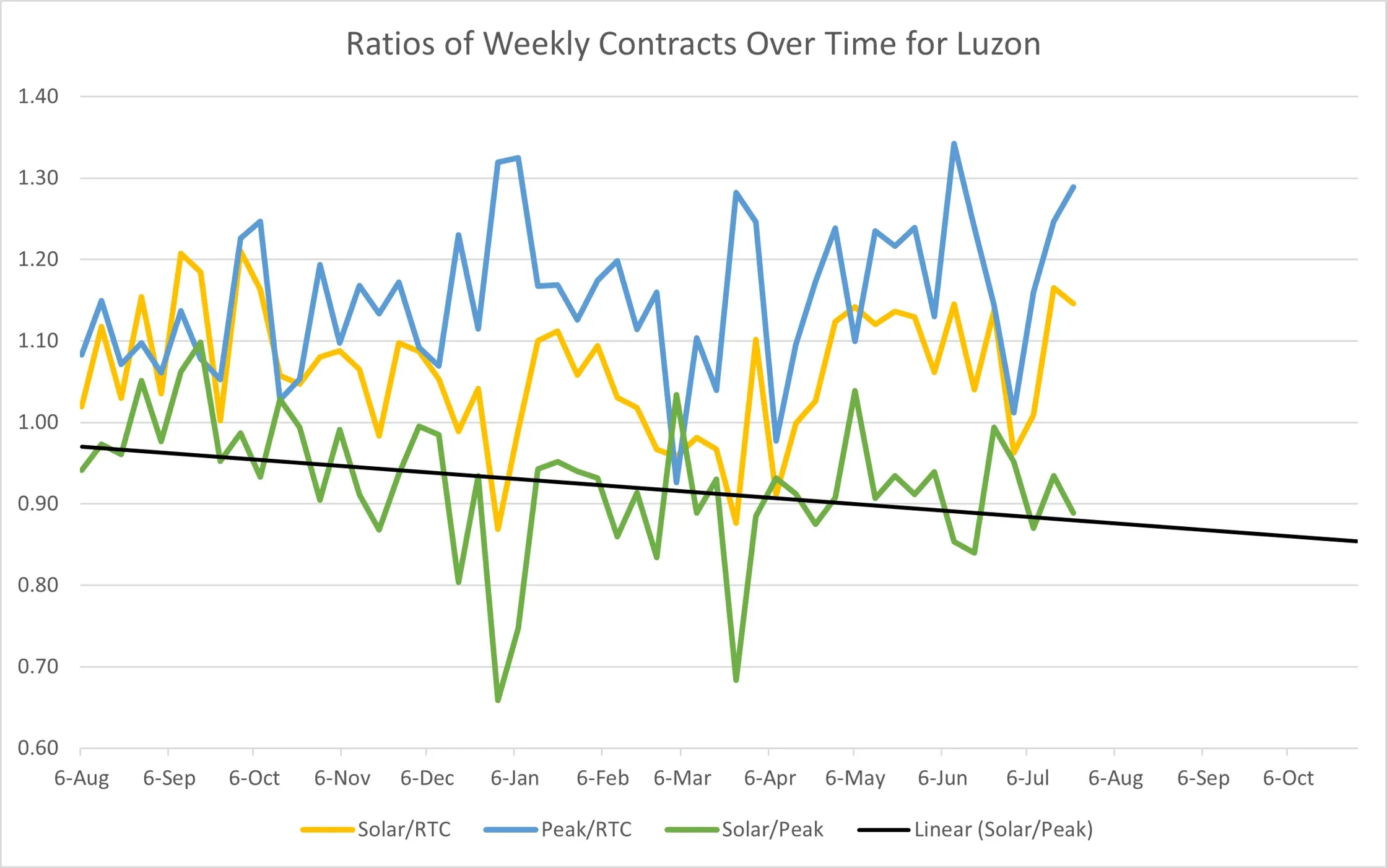 Given the push into renewables, and the price signal indicating midday prices are at a premium to Baseload, Solar has been the primary focus for RE developers for the Philippines. As an analogy, in the US, and California in particular, installed solar capacity has skyrocketed. The added midday generation has stressed the system and caused midday prices to collapse, but evening prices to move significantly higher, particularly on hot days. Below is the experience from Calfornia and the famous "Duck Curve".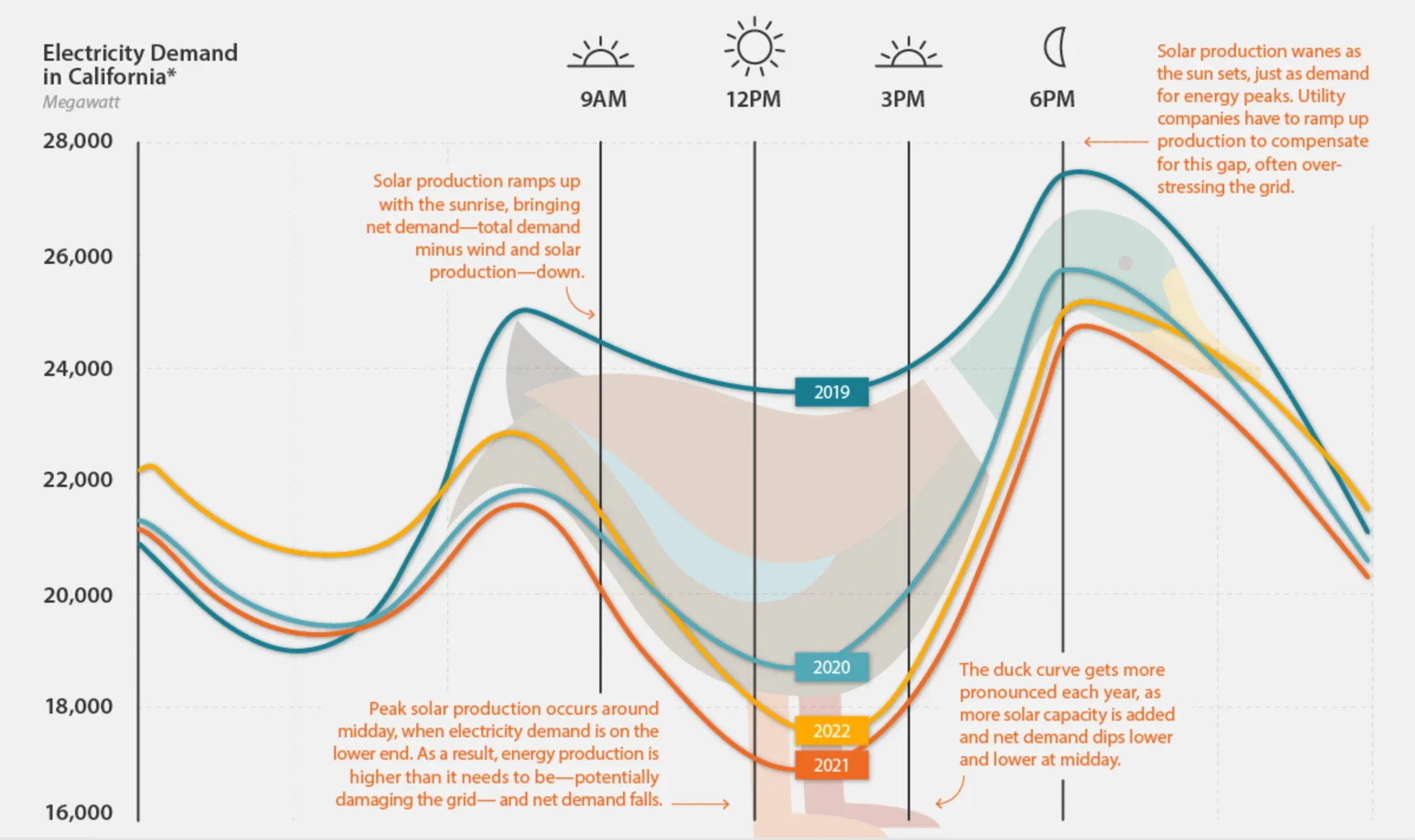 Prices by hour continue to encourage moving consumption to the early hours of the day and the construction of storage. A spread of 5000 php/mwh from morning prices to evening prices is quite substantial. It makes a lot of storage start to look economically positive.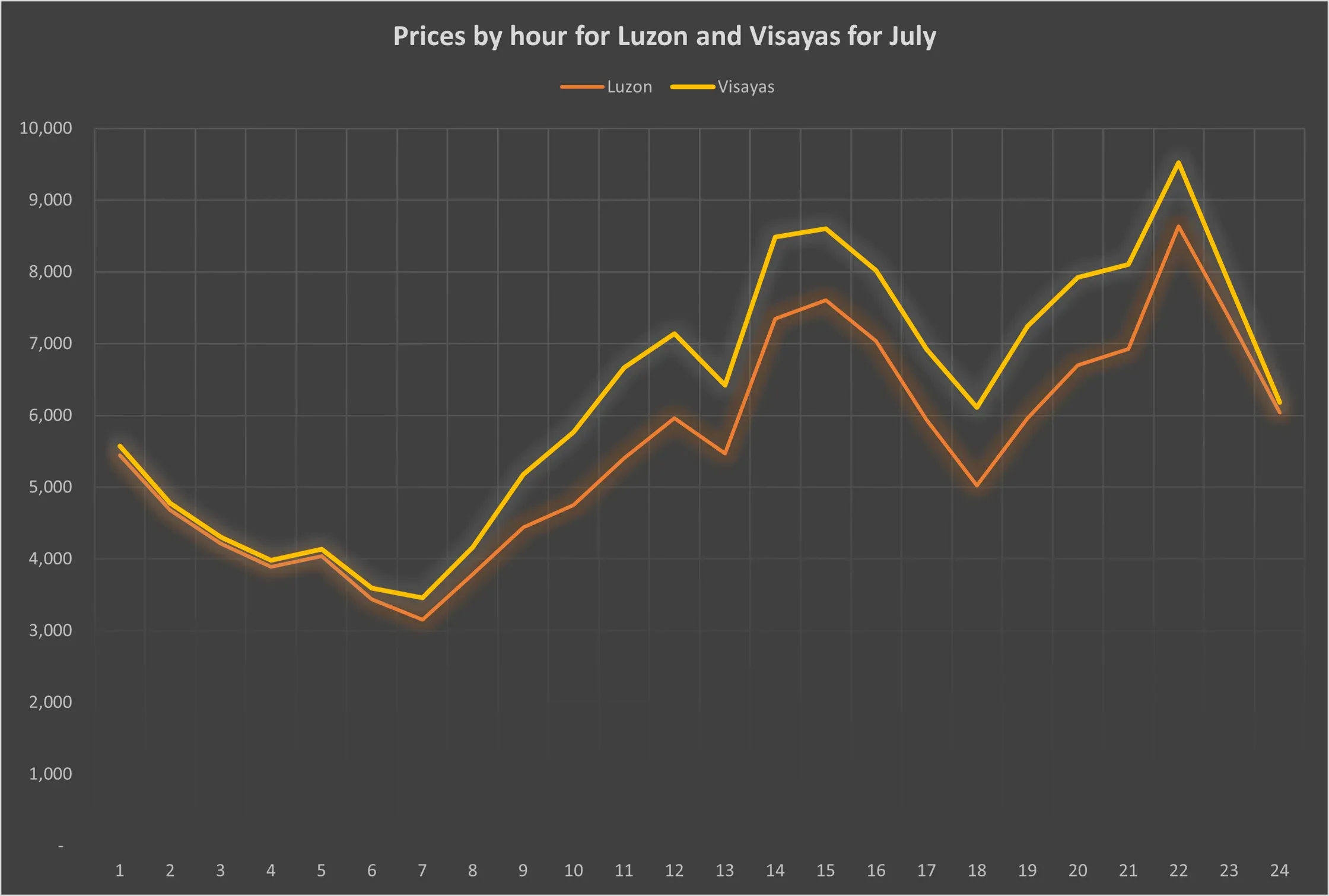 We are anxiously awaiting the next few months of prices given the forecasted shortfall in generation relative to demand. Volatility should be high, which should encourage market participants to lock in prices now for their generation or consumption and eliminate that risk.
As always, I highly recommend reaching out to other market participants who have not yet joined our platform. This is the most effective way to enhance liquidity on Green Tiger Markets. If there is a specific firm that you believe would be a valuable addition to our platform, a warm introduction can go a long way.
Stay safe and thank you for your business!
-John
If you are interested in learning more about our data analysis, please don't hesitate to contact us at [email protected].
The views contained in this newsletter are my own opinion and should not be considered investment advice or relied upon to make investment decisions.